Welcome to our Etsy Shop Now She Blooms
All of the dahlia flowers photographs in our Dahlia Love Pendants were grown is loving memory of our Son. Flowers have been my medicine. I grow the blooms in the summer here on our farm and utilize all my photos for each unique handcrafted jewelry.
Our book Flower Power is all about how the power of flowers creates positive healing energy for us to live full bloom lives. Get your signed copy by clicking below.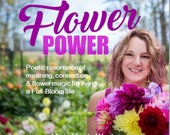 $18.25 USD