Welcome, I'm Misty VanderWeele
The first thing that you'll notice about me is I live with as much inspiration and zest as possible. I actually don't think life should be lived any other way. I believe living well despite what life throws at you. And boy has life dished out plenty on me. But more about that later.
If you stopped by my home from May-September which is also the home of All Dahlia'd Up, after a BIG smile and a hello I'd take you for a tour of our two dahlia gardens. Everyone is always blown away by the mountainous Alaskan scenery and expansive farm fields. Then we'd head back to finish our chat since I'll want to know all about you…on my beautiful deck and offered red wine depending on the time of day.
I'm a wife to a great man, Glen, who helps make my dreams come true. We live on the largest vegetable farm in Alaska. I'm also a mother of 2. My daughter Jenna, 16 and my beloved son in heaven, Luke, forever 21. He passed way after a 17 year long battle with the muscle disease, Duchenne Muscular Dystrophy.
Grieving Luke has been the hardest thing I've ever had to do however growing the Dahlias fills my heart with vibrant love and magic. Totally has been my medicine. Every bloom is like he's loving me from heaven.
Then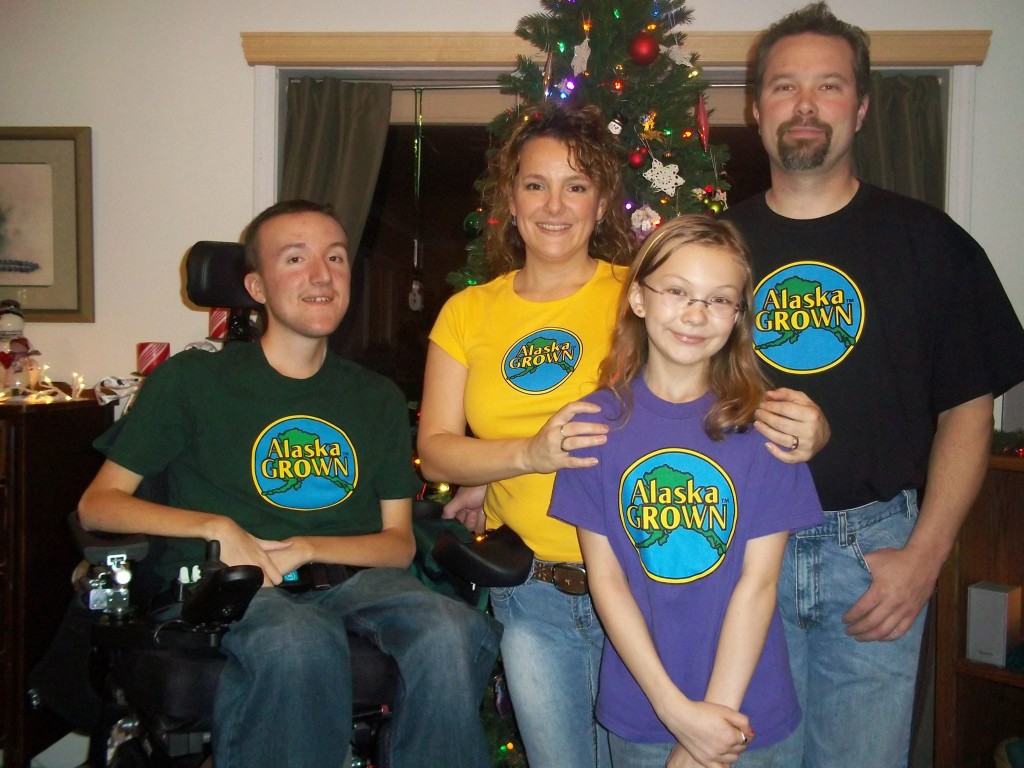 Now
Thrive Through Tears
We miss him like crazy, but we are getting through with each other, lots of friends and family support and remembering the positive impact of inspiration Luke had our lives.
The day he went to heaven I made him a promise that I'd find a way to thrive through the tears of missing him. Since then I've went on and publish 4 more books bringing my total books written to 8. Thrive Through Tears anway, is kind of a memoir sharing exactly how my promise and my grief has brought such bitter sweat gift of healing. Ultimately how I've learned the cord of connection between mother and child looks fragile but is immensely strong and can NEVER be broken. Available on Amazon.
And Flower Power: Poetic Resonance of meaning, connection and flower magic for living a full bloom life. I didn't understand why I'd get so depressed and full of new grief at the end of every flower season. This book shares what I learned about flowers that I already new but didn't know I knew. Available directly from our publisher here.
You could say I'm a purple lover, daisy duke wearing, red wine drinker, toe painted crazy fun women with a place in her heart that will always ride the wave of missing her son. AND…He is also reason All Dahlia'd Up exists.
The Dahlia that started it all…
When my husband and I first met he'd bring me bouquets of Dahlias from a local flower farm, I just loved them and thought one day I'd like to have my own Dahlia farm.
Then in kindergarten Luke came home with a straggly looking plant for me. The tag said it was a dahlia, I'm like okay what color is it going to be? I went ahead and planted it. To my delight it was purple… my favorite color! However, taking care of all of Luke's physical needs was pretty much a full time job but I always had my Dahlia farm in the back of my mind. You can watch this video for more of the story.
The first year after Luke was gone I planted only purple dahlia's in his memory, then season 2014 I decided for a "test" run and planted 37 Dahlia's of several different colors and varieties. Now I'm All Dahlia'd Up and ready to go!
Dahlia's only bloom here in Alaska Mid July to first frost around the middle of September. Their season is short and their blooms show the light of life in full vibrant display of color just like my Luke lived.
With every Dahlia I'm doing what I love and keeping his memory alive.
Here is the meaning of the Dahlia that resonates fully with all that I do and all that I am that I'd like to share with you.
"Dahlia's bring meaningful blessings and messages of enduring grace. The Dahlia is a symbol of inner strength, creativity and standing strong in your scared values."
What ya waiting for order a dahlia bouquet today or take advantage of our new Flower Subscription Service 8 Weeks of Summer call us to subscribe (907)232-4580.
Other places you can learn about me and connect are: